This is an unusual one for me so far, in that it contains no new science. Instead, it explores some of the policy implications of what we already know about how tidal farms will affect the flow in their channels, and affect each other, if they are deployed at large scales.
There are two main points that we've tried to get across:
Firstly, that if we are to achieve the greatest possible energy yield for a given level of environmental impact, we'll need to strategically plan tidal developments for a whole region – not do them piecemeal.
Secondly, that tidal farms will interact. If they're upstream and downstream of each other that interaction is detrimental, but if they're side by side then they can have mutually beneficial effects. We think it's a problem unique to tidal power that if one array stops working, its "rival" neighbor can lose power… and that raises a number of fun and interesting questions about management and liability.
After looking at the physics and the resulting policy issues, we discuss some ways of dealing with them. We argue that if we want to get the most that we can out of our seas we will need some form of interventionist, centrally planned, approach to managing tidal power; the free market will not deliver. The arrangements that we have at the moment are just fine while we're only putting a few turbines in the water. But as we scale up – and we must scale up, if tidal energy is going to be significant at grid level – this stuff will start to matter, and it'd be really nice if the necessary policy frameworks were in place before they're needed.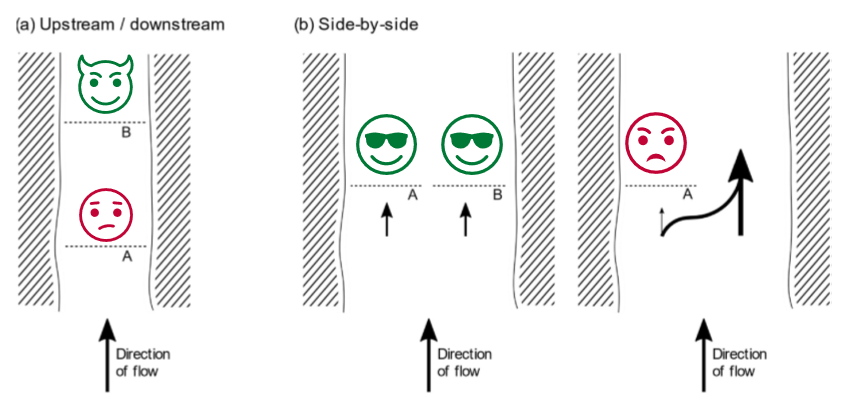 I'm proud of this one, for two reasons: Firstly that I think it's important, in that it asks some questions that I don't think anybody in the marine spatial planning, policy or governance spaces has been thinking about much as yet (although I gather they have been grappling with similar issues around wind). Secondly because it's been a genuine multidisciplinary, collaborative, process. I had the original idea for the paper a couple of years ago, and after discussion with one of the other authors we tried to flesh it out, but we realised that we needed people with policy expertise. We brought them on board – including Steph Weir, a former PhD officemate of mine who wrote major chunks and taught me about unitization – and the result is a pleasingly short paper that really couldn't have existed without all five of its authors.
If you want to read the whole thing yourself – it's only five pages long, and it's written for a non-specialist audience – then you can get the official version here with a subscription to Marine Policy, or the unformatted, post-review, version here for free.